(Originally posted in September, 2004, this article has made the rounds a few times since then. I'll let you folks do the math on how long it's really been, based on when you read this ... As an FYI, the text on the jacket reads "EQ Traders Corner, Niami DenMother, www.eqtraders.com")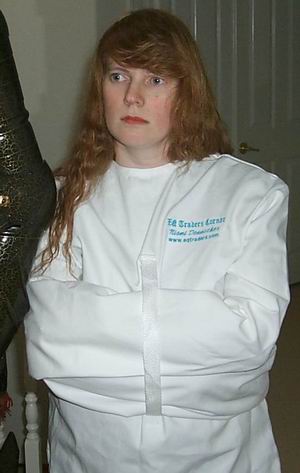 It's been a long 5-1/2 years and a LOT has changed with tradeskills, this site, and my life.
One thing, however, has stayed rather consistent for the last couple of those years. Every time there was a new expansion, and every time Ngreth and I went to a Fan Faire, I could be heard to whimper, sometimes loudly, for a "straightjacket of tradeskilling."
Let's face it, anyone who tries to track this many items, recipes, mobs, drops, forages and so forth for a splinter group of gaming junkies (I resemble that remark!), has got to be a bit crazed.
Regardless of whether I get "paid" in donations, chocolates, heartfelt thanks, or just more spam posts from board trolls, I just keep plugging along, brain often pretzeling during the times when a few thousand new recipes are all released at once. It may be insanity, but it's my insanity of choice.
I never really expected anything to come of my whimpering. After all, the devs have more than enough on their plates without custom-making an item for one demented redhead. I didn't, however, take into account one very devious and determined House Ogre.
Imagine my surprise when I was having an especially annoying fight with over 100 problem entries in the database today, to be handed a lovely gift bag by my grinning hubby. Lo and behold, at long last, I have my very own Straightjacket of Tradeskilling, complete with site name and all.
{cackles and twitches some more}
Created: 2004-09-23 08:19:42
Last Modified By: Niami Denmother
Last Modified on: 2006-03-10 02:19:13
---

© 2003-21 Niami Denmother.
The fine print. This is a research and information site. All of the information on this site has been gathered and submitted by the players and Niami Denmother. While we try our best to keep the information here as accurate and up to date as possible, rely upon it at your own risk. By submitting information and graphics to this site, you are granting us permission to use the materials in any way that we deem appropriate. EverQuest is a registered trademark of Drakpaw Games LLC. Except as is disclosed on the "about" page, this site has no official connection with EverQuest or Darkpaw Games LLC. All information, articles and graphics on this site are the copyright of EQ Traders Corner, its owners and/or Darkpaw Games LLC and may not be copied or reprinted without the express written approval of the copyright holder. This site is not meant to represent official EverQuest (Darkpaw Games) policy, and we are not responsible for errors and/or omissions that occur due to changes in EverQuest trade skills or information that we recieved from the community that is in error.
Hosted By: